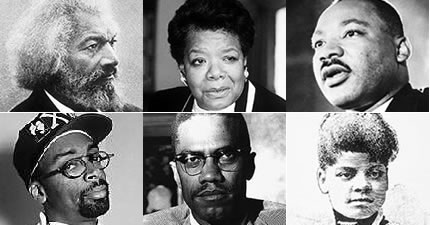 Online resources provide more information on the history and figureheads of black culture than have ever been available before. If you are looking for teaching resources on African-American history, researching a project on civil rights, or just have a casual interest in modern black events, these professional sources are the best place to start. Educational and museum-oriented links provide key insights you do not want to miss.
History
University of Washington: African American History: This collection of sites links to a number of excellent historical documents, from specific state documents in digital form to guidelines from other major sites. These resources are an excellent place to start.
Black News: Black History Resources: Use this list of links to find a variety of online black history museums, from Discover Black Heritage to the Charles H. Wright Museum of African American History. Sites like AfriGeneas and African Ancestry can help with genealogy projects, too.
Smithsonian Education: Black History Teaching Resources: The Smithsonian provides several teacher-friendly projects that showcase specific contributors and sections in history. The African American History Virtual Tour is especially impressive.
Bio: Black History: Bio collects a number of videos and slideshows that you can use as great companion resources to more drab lessons. Timelines and study guides are also parts of this multimedia site.
NEW: Black History Month Lessons: These lessons are suitable for any type of black history education, not just around black history month. Use the plans to focus on specific aspects of black culture, or skim facts from each project for a broad overview.
Famed Black Culture Contributors
Black Leader: Famous Black Heroes from A to Z: The organization on this info-blog is a little confusing, from the search function is useful and the list is comprehensive, with summaries on each figure.
U.S. History Important and Famous African Americans: The chart in this site provides a comprehensive list of contributors, their lifespans, and a summary of their work. Links are included for more information on some of the most important personages.
Victoria's Past: Famous Black Americans: Follow this list to find summaries of the achievements of black Americans. This list focuses primarily on early figures in U.S. history and stops around the 1950s, but it is still a quality place to start research.
Academy of Achievement: Rosa Parks: Rosa Parks is certainly a key figurehead and contributor to the civil rights movement, but consider the other recommended names that the site provides. Key figures include John Lewis, Elie Wiesel, and many others.
Famous Black Inventors: Each black inventor has a spotlight page about history, achievements, and current work. Yes, this site focuses just as much on modern inventors as classic figures.
Civil Rights and Its Achievements
The New Georgia Encyclopedia: Civil Rights Movements: This article covers the civil rights movement from its inception to the 1980s. The links and information included in this narrative-like structure are extremely useful.
Calisphere: The Civil Rights Movement: The overview on this site is general, but remains a valuable place to start research and discover basic facts. The companion section of historical photographs can be used for slideshows, lessons, and other projects.
History: Civil Rights Movement: It is difficult to find a better civil rights resource than this History portal, which includes videos, themes, timelines, and much more. The More to Explore section has information on nearly every civil rights topic.
NPS: We Shall Overcome: Historic Places of the Civil Rights Movement: Move away from generalities and into famous sites where key events of the civil rights movement occurs, arranged by state or timeline. Find a place for field trips, or pick one spot for a big project.
VA Historical: The Civil Rights Movement in Virginia: While the site looks through a Virginia lens, the many articles it offers provide a complete look at the different phases of the civil rights movement and how other world events, such as wars and new legislation, affected it.
Art and Literature
Corey Barksdale: Seven Famous African-American Masters of American Art: The seven African-American artists make this article worthwhile, but it also includes a lengthy history of African art and how it was transferred into unique American creations and widely influenced culture.
Forbes: 10 African-American Authors Everyone Should Read: This is a modern list but includes many classic authors such as Langston Hughes. The writers cover poetry, plays, award-winning novels and nonfiction pieces.
NMAAHC: The National Museum of African American History and Culture has online resources that let viewer search through their collections and explore their latest exhibitions. Visit the digital version of their galleries and learn from the impactful art created through African-American history.
NBAF: National Black Arts Festival: The NBAF site connects viewers with festival news, participants, and the latest updates. The blog section includes include African-American art trends as well.
It's a Black Thang: This collection of modern black art, divided into various topics, combines an art community, retail website, and cultural center. It is worth a look for general interest, historical comparison, or art inspiration.
Modern Movements
Udemy: African-American History: Modern Freedom Struggle: These series of video lectures from Stanford University starts at 1930 and works through the major events of African-American history. Each lecture is fairly long, but require a free subscription to the site to view.
Huffington Post: 18 Famous Historically Black College and University Alumni: Education resources can gain new interest when they incorporate famous modern-day icons. This list explores well-known figures that students and teachers alike can relate to, making lessons far more effective.
The Root: Behind the Keyboard: 30 Black Bloggers You Should Know: These blogs range from fashion and dating to news and activism, but the common thread is a strong African-American voice in today's digital age.
Dogon Village: Dogon collect black-oriented news from around the nation with an emphasis on political movements and the new face of social activism.